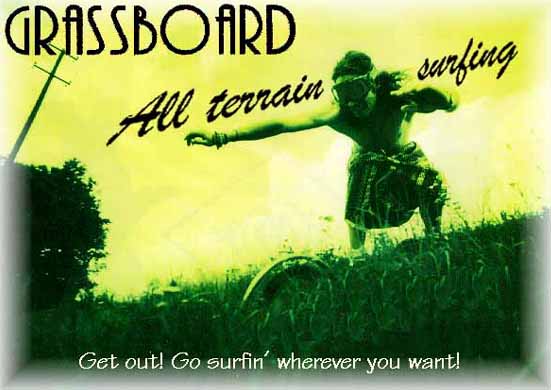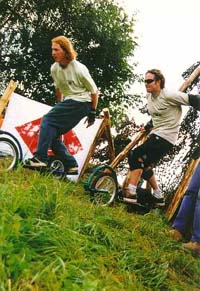 Radical turns within 1-2 meters (3-6 feet), but: the faster you ride the better the
stability. We've got up to 40-70 km/h (25-45 mph).
Using lifts at resorts makes it 100% pure fun.
Put on a "handlebar" and surf the city: ramps, obstacles and halfpipes.
Footstraps: Some like the pure surfing feeling, some like it hot:
Footstrap, hooks or click pedals.
Some riders: Martin Freinadametz, Sandra Farmand (Worldchampions, snowboard), Andi
Moller (worldchampion sandboard), and many others...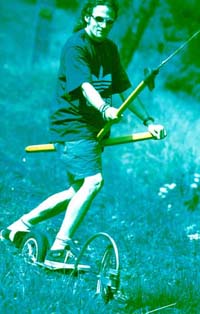 What's your style ?
Freeriding
Surf wherever you want: Grass, trails, rocks, pavements...etc.
You`ll keep pushing your own limits . Big wheels bring you
more comfort. Radical turns, free carving and surfing, high
speed downhill. The distance between your backwheels as well
as tire pressure define your style. It's yours.
---
Racing
Speed will pump up your adrenalin. Go fast and ride hard.
Increase the distance between back wheels to shift the
pressure to the edges. At your own risk though: take
protectors !
---
Freestyle
Go airborne or fakie, go wild on your board: back wheelie,
nose wheelie, hang ten, cut backs, pushing it on flat...etc.
(and we found some grassy pipes). Express yourself ! Your
backwheels are very close and demand sensitivity and balance.
With the smaller board you'll have some awesome surfing
sessions in ramps and pipes.
But whatever you do, it's a just like surfing...
---
Slides ?
No problem! But you can do radical turns without them. No
matter what, show respect.
Don't hurt Mother Earth !
$350 and Up...

| X-treme Sports Calendar | X-Gear Cyber Outpost | X-Links | Home | Gallery |
Click here to e-mail the Webmaster.