Pumpabike F1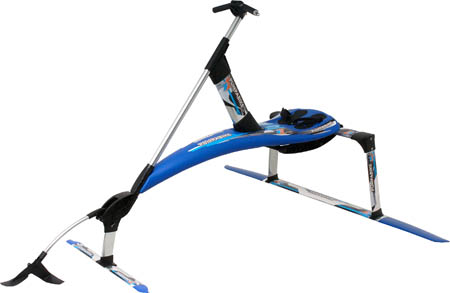 SPECIFICATIONS:
- Speed through water: 3mph - 18mph
- Thrusting wings: Front and Rear wings
- Rear wing dimension: 2200mm / 7 Feet
- Weight: 14kg / 30lbs
- Max rider weight: 110 Kg / 242 lbs
- Min rider weight: 35 Kg / 77 lbs
- Packed Dimensions: 1650mm x 650mm x 350mm
- Average assembly time: 10 - 15 min
- Materials: Aluminium, Plastic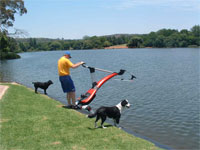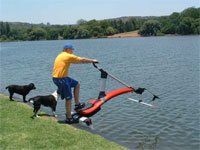 Starting Procedure
Learning to ride the Pumpabike is as easy as one two three!
Pumpabike's Simple Operating Procedure:
- Hold the bike over the edge of the water with the big wing just touching the water.
- Place one foot in the toe strap, whilst holding the handlebar.
- When ready, roll forward in order to place the front (small) wing into the water.
- Then the most important step! In a very smooth action, push the bike hard away from the side. This will make you start to "fly".
- Once "flying", you then start to bounce up and down in the toe straps. This will then propel the bike forward.
- Once "flying", it is important to keep the wings in a horizontal plane. this is done by keeping your body centralised. To correct any sideways roll, simply move your body weight to counter roll.
- Enjoy the ride, you will find that certain technique that allows you to go faster for longer, that is part of the fun!
Starting Stand Pumpabike Starting Stand  
This easy to assemble and sturdy starting stand is perfect for those one time beach starts.
Constructed out of plastic and aluminium, and superbly styled, makes starting as easy as one two three!
Pumpabike F1
$999.00