2005 Blade

Frame: Laser-cut double downtube with replaceable rear sub-frame. Powder-coated finish.
Fork: Marzocchi Super Monster-300mm front travel, adjustable rebound and compression.
Shock: Works Performance-12.5" rear travel.
Motor: Briggs and Stratton E-Tek Neodymium Pancake
Controller: Fully programmable Alltrax 19.2 kiloWatt Peak (25.7 electrical HP)
Horsepower (Rear wheel dyno tested): 18.2 HP
Top Speed: 40 MPH
Battery: Hawker Genesis-16.7 amphour-48 volt nominal-total capacity 800 Watthours
Wheels / Tires: 3.0 x 24 Rear, 3.0 x 24 Front. Ringle Doublewide rims.
Rear Hub: Proprietary CNC billet aluminum.
Front Hub: Billet aluminum 20mm thru-axle.
Brakes: Hayes Hydraulic 8" rotors.
Seat: Yamaha YZ style- SDG Gripper.
Wheelbase: 56"
Weight (fully charged): 165 pounds.
Blade VS Honda XR 250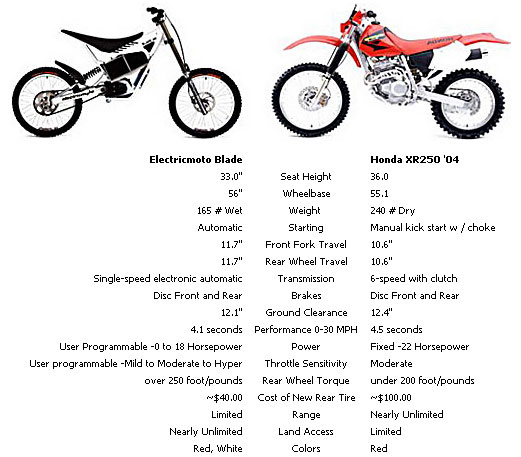 2005 Blade iHybrid

Power: 1,000 or 2,000 watt versions are available.
Run Time: The 1,000 watt version will power the Blade continuously for 5 hours at 10 mph. The 2kW version will run it for 5 hours at 20 mph.
Suspension: Fully articulated and has a quick ajustable shock.
Weight: 35 lbs for the 1,000 watt version or 55 lbs for the 2,000 watt version. * Length: 40" * Width: 24"
Noise Level: 59 decibels (For comparison, normal conversation is 60 dB while a gas powered motorcycle ranges between 95 - 110 db. Source)

2005 Quad iHybrid

Quad iHybrid

Gas Electric Quad
Specs available on request
Past Models and Prototypes




Electric motocross elegantly defined.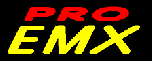 Way bad. For expert riders only.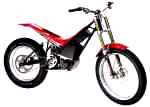 Trials Cycle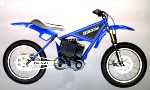 For Kids
more concepts