Slopecycle
SMX

Brand new for 2005 Slopecycle MX.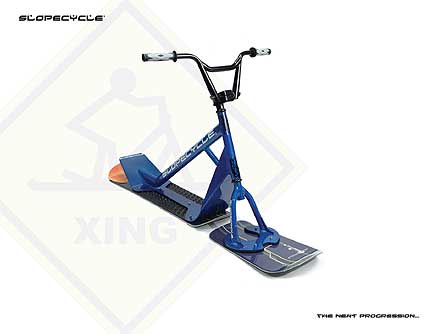 The new 2005 Slopecycle XR1 is the next progression in winter snow sports. These quality U.S. Made aircraft aluminum Slopecycles with extremely maneuverable snowboards make for a fun and easy ride. Carve the slopes with no special boots or bindings.


These light all aluminum Slopecycles are fun and easy to ride.
The concept of bikes on snow may be new to the USA but all types of snow cycles and snow scooters have been enjoyed raced in Europe for years.
Look for Slopecycle Demo days coming to your local ski area!

$750.00 Colors Red, White, Blue + S&H
Made in USA