Jimmy D'z Motorized Powered Snowboards and Snowboard Kit


Jimmy D'z Snow CarverTM, is an exciting new powerboard, that is ready for production.
Jim Decker has perfected the motorized snowboard
with a unique, precision weight balance design.
The rider is propelled by the engine and track,
experiencing the thrill of carving and maneuvering turns
and speed in the open space. Have a few hills in your
area,the Snow CarverTM goes up and down hills too,
Click here to Watch the Video!!!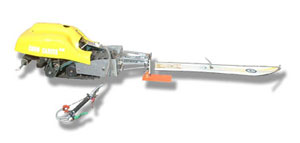 Drive System
* Current models all using 134 c.c. 2 stroke Power BeeTM engine by US Motor Power, Inc.
* Gas tank 1.1 gal.
* Brakes - "drum and band type."
* The SnowCarverTM " uses a "continuously variable transmission" clutch system".
* Each drive unit is fitted with the patented Mechanical Carving System.
* Speed_ 35 mph
* Oil/gas mix 25/1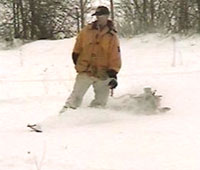 Controls
* Weight Shift Turnability.
* Hand-Held Controller.
* controls variable speed * controls variable brakes
* kill button
* tether switch, engine dies if dropped
* Should "clamp on" or "bolt down" to any snowboard (some modifications may be necessary).
* Regular or "goofy foot" stance.

Motorized - Powered  Snowboard  History  

* Summer / fall, 2000,  James E. Decker jr. builds his first powered snowboard prototype.
* Winter 2000 / 2001, tested newly developed prototype Michigan and Indiana. Photo on right.
* Spring / summer 2001, builds second prototype
* Summer / fall 2001, shows # two to
his patent lawyers * October 6, 2001, files for a patent.
* Winter 2001 /2002, tested # two  in Michigan and Indiana. Picture  of  Snow CarverTM  debuts on Powerboarding.Com
* Spring / Summer / Fall  2002, builds # 3, 4, & 5. # 3, 4, & 5 all have newly configured connection piece.
* Summer, 2002, creates Jimmy D¹z Powered Snowboard Co.  LLC.
* December 26, 2002, tested # 3, 4, & 5 in 9 inches of fresh snow in Indiana .  Video used from this event to later appear on Web site.
* Summer, 2003, creates www.jimmydz.com
* March 2, 2004 receives patent # 6,698,540 for ³motorized snowboard².
* The Snow CarverTM is scheduled for procuction in the fall of 2006.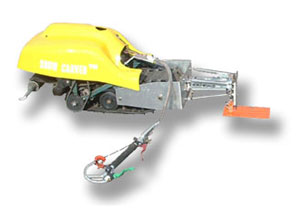 How does it work?
This unique system is the closest mechanical
way to replace the feel of carving downhill.
The rider is pushed at a point just behind the back foot.
At this pivot point, a rider can turn left or right, up and down carving from one side to the other all by their own weight shifting.
Frequently Asked Questions
Will it go uphill?
Yes, but it's not as fun as cruising an open field.
Will it go faster downhill?
No, it will not surpass maximum engine speed.
Can you disassemble it easy?
Yes, the system is "easily detachable".
Can it pull another boarder? 
Yes.
Warnings
do not exceed 30 degree incline do not take over frozen lakes
do not operate while intoxicated do not operate on roadways
do not jump helmet and safety gear recommended
Snow CarverTM with snowboard $3,550 plus applicable sales tax and shipping.
Snow CarverTM without snowboard $3,300 plus applicable sales tax and shipping.