MotoSk8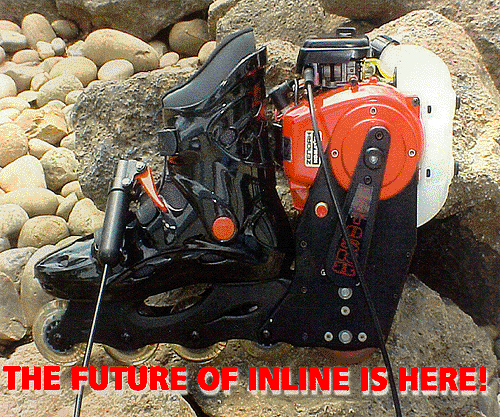 PRESS RELEASE In Oakdale, California the sport of inline skating has evolved to a new extreme. Tim Gendle a native Californian has invented the Motosk8®, which is a motorized inline skate. This motorized marvel has won first place in the category of technical excellence in the prestigious Bulbie & Inventions Award Ceremony. The Motosk8® comes in the standard model that goes 25 mph and the high performance model that goes at a screaming 35mph. Articles about the Motosk8® have appeared in various News papers, magazines such as Inline, Popular Mechanics, Weekly Reader just to name a few. Real TV, Rip;leys Believe it or not Planet X and several News Programs in the United States have run feature segments on the Motosk8®.
Quciktime VR


Powered Sk8 Length 19.25 in.
Heigth 14.25 in.
Width 7 in
Weight Powered Sk8 12 lbs
Engine two stroke 22.5cc
Horse power 1.5@ 8,000 rpm
Ignition Electronic
Carberation Diaphram w/purge pump
Fuel Premixed Unleaded 50/1
Running duration 1-1.5 hrs.
Transmission Single speed centrifical clutch
Maximum speed 25 mph (stock)
Cruise speed 20 mph
Maximum carry capacity 300 lbs.
Wheel type 77.5 mm in-line stock
Drive wheel Motosk8 drive wheel
Braking Rear drag
H.P. oversized carberator
K&N air cleaner
Expansion chamber
Advanced Timing
Ported & Polished
35 MPH+s

ABOUT THE ENGINE When we were in the research and development stages on the Motosk8, we had tried 3 different engines before we found the best one. We needed an engine that was easy to maintain, reliable, had plenty of power, and parts readily available. We found all of that and more with the 22.5 cc Zenoah 2 stroke engine.
ALL MOTOSK8'S COME WITH THE 22.5 ZENOAH 2 STROKE ENGINE. HERE ARE SOME OF THE GREAT QUALITIES OF THIS ENGINE!
CHROME CYLINDER Long lasting with dependable high performance tolerances under heavy riding conditions.
SUPER THIN COOLING FINS 12 to 19 (varies by engine model) cooling fins dissipate heat quickly for increased durability and performance under heavy loads.
EXCLUSIVE "V" PORTING Enhances starting characteristics and increased top end performance.
MACHINED, 2 RING PISTON Gives tighter tolerances for long lasting power.
FLOATING CAGED NEEDLE BEARINGS Advanced design enhances bearing lubrication, durability, smooth running and long lasting high performance.
MACHINED AND BALANCED FLYWHEEL keeps the engine running smoothly with accentuated torque characteristics for maximum output.
"I" BEAM CONNECTING ROD State of the art, High Frequency Heat Treated, light weight and strong "I" beam design for smooth peak performance and dependability.
HEAVY DUTY CLUTCH Transmits peak performance to the skate, with limited slip and long lasting qualities.
SPLINED SOLID STEEL SHAFT All Motosk8 "Zenoah" engines utilize solid steel drive shafts with splined ends for solid engagement and smooth long lasting performance.
CHROMEMOLY CRANKSHAFT Machined and carbon heat treated for high performance and durability under the heaviest loads.
HEAVY DUTY BALL BEARINGS One heavy duty 8 roller ball bearing on each end of the crankshaft for smooth operation and long lasting performance.
4 BOLT, SUPER COOLING CRANKCASE Sturdy crankcase system designed for heavy duty use, and enlarged cooling ports for extended, cool running peak performance.
RETURN TO TANK PURGE SYSTEM Fuel purge system re-circulates fuel back to the tank, not on the ground for clean and safe operation.
WALBRO WY CARBURETOR Dependable, Walbro barrel type carburetor for greater acceleration and smooth running power at all operating speeds.
REUSABLE SEAMLESS AIR FILTER Exellent filtering under all types of conditions. Easily maintained.
EASY ACCESS AIR CLEANER CAP No tools required to access filter for inspection or maintenance.
EXCLUSIVE "V" PORTING Enhances starting characteristics and increased top end performance.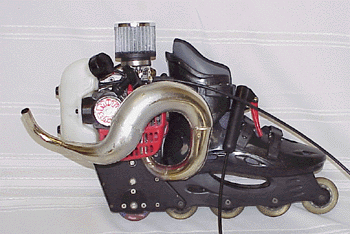 $749.00