Randal Moto-Skateboard


R25-S
MOTORIZED SKATEBOARD
| | |
| --- | --- |
| | Features: |
Shaft Drive, Mid-Engine, Handheld Throttle and Brake Control,..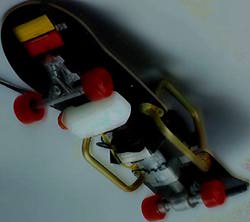 High Performance Design Featuring a unique mid mounted engined, which centers weight in the
middle of the board for exellent balance, stability and control. This also allows for excellent foot
placement allowing the R25S to have a feel more similar to a regular skateboard. The R25S has a 25cc,
1.5hp, two stroke motor and low-ratio gearing which produces strong acceleration. The outstanding
handling charecteristics of quick turning and high stability result from a well designed read steering
geometry, and use of Randal Speed Trucks up front. The R25S also features an effective braking system.
The hand lever actuates the brake on the drive, providing braking action to the rear wheels. The brake
has good "feel" and modulates well, and is powerful enough to lock up the rear wheels. Other features
include Soft wheels for good traction, a centrifical clutch provides smooth starts and allows the motor
to idle, a dual lever handle controls both the throttle and brake through flex cables. A chro-moly frame
encloses the engine for protection and provides structeral support , with the top cross strut useful as a
grab bar. The gas tank is monted behind the front wheels for protection and a tail skid plate is also provided.
The R25-S is no toy it's a real piece of racing equiptment. Capable of speeds in excess 25mph this board
has what it takes to redefine the term motoboard.
"The RANDAL R25-S is a well Engineereed Top Quality Motor-Sport Product"
AS SEEN IN "MEET THE DEEDLES"
Call for Availability