ZIPPER BICYCLE ENGINES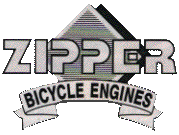 Join the Revolution: Add a Zipper to your Bike
The Zipper Bicycle Motor Kit has arrived.
It is easy to assemble, simple to operate, and will doubtless enable tens-of-thousands of people
to enjoy the pleasures of bicycling. The Zipper fits onto the back of 26 in. bicycles with balloon tires.
Once installed, your bicycle becomes motor assisted with just the flick of a switch.
And when the motor is engaged, you can either allow the motor to assist your peddling or
just allow the engine to take you on a pleasure cruise.
It's fun, it's safe, and it's economical.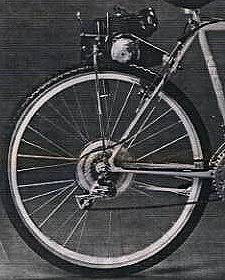 Zippers are now being used by a wide range of people, including:
Students


Vacationers


Commuters


RV Owners


Physically Challenged


Event Personnel
ZIPPER SPECIFICATIONS

Weight

13 Pounds

Engine

2 Stroke, Air cooled

Horse Power

2

Ignition

Electronic

Carburator

Pump Type, with Choke

Fuel

25:1 Gasoline mix

Running Duration

Approximately 1.5 Hours per Tank

Fuel Efficiency

Over 100 M.P.G.

Compatibility

26 in. bikes. Pneumatic wheels (Cruisers ideal)
MADE IN USA
PRICE: $499.00 + $20.00 (S&H)
Call for Availability