MOTOBOARD

Step on a Motoboard for a new experience in outdoor recreation and short distance travel.
Enjoy the thrill of sailing across any smooth surface powered by Motoboard's quiet 1.4 horsepower engine.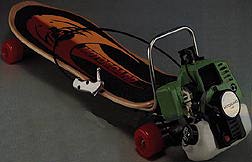 It's easy to ride, and no prior skateboard experience is required.
Starting is a snap with the easy pull recoil starter. One tank of fuel lets you ride for up to an hour.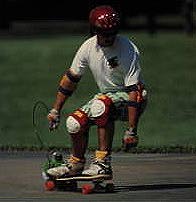 Great Sport


Easy to ride


Automatic Clutch


Quiet 1.4 hp Engine


Quality constructrion


Maximum speed 25-30 mph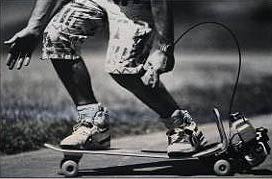 Control your speed with the hand held trigger throttle, which automatically returns to idle when released
SPECIFICATIONS

Engine

Forced air cooled, two cycle

Horsepower

1.4

Fuel Capacity

16 oz.

Fuel Type

Gasoline / oil mix

Range per Tank

10 - 15 miles

Speed Range

5 - 30 mph

Dry Weight

19 lbs.

Length x Width

36 x 10 in.

Wheel Base

26 x 10 in.

Control

Hand-held trigger throttle

Drive System

Enclosed shaft

Clutch Type

Automatic centrifugal