Skimbat
Windsurfing in the Winter with
the Ultralight SKIMBAT Wingsail
A new fun sport for
Windsurfers,
Skiers,
Hang-gliders
and other sport activists!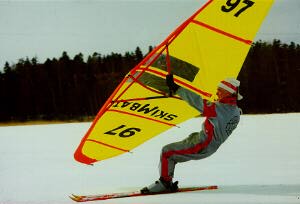 All you need is skis or skates, a little wind - and the SKIMBAT Wingsail.
Sail with the SKIMBAT and the sky is the limit!
Windsailing with the SKIMBAT is like windsurfing on ice or snow.
Weighing just a little over five kilos, it folds down to 1.8 m so you can carry it along with your ski equipment
in your car and be ready to wingsail in a couple of minutes.
We've kept the weight low and the strength high using fiberglass reinforced plastic tubing in the frame
and drawn aluminium tubing in the battens, which withstands extreme stress. The sailcloth is made of light polyester,
which lets you wingsail at temperatures below -20 C if you can stand it.
The SKIMBAT has been thoroughly tested on river and lake ice in the mountains of Finnish Lapland and on frozen lakes in North America.
The International World Ice and Snow sailing Association awarded the SKIMBAT Wingsail its "Best Desing" award in 1994.
Try it once - after that you´ll long for "The Endless Winter".

Technical Data:
Wingspan: 4.0 m
Weight: 5.5 kg
Frame material: Aluminium tubing, fibreglass
Battens: Drawn aluminium tubing
Sail: 4.8 m , 2m
Length in transport. 1.8 m
| | |
| --- | --- |
| SKIMBAT Wingsail, standard 4.8 square meter sail | Prices (Shipping included) |
| Transparent sail, monofilm/Neil Pryde | $ 2,990.00 |
| Bright coloured dacron sail (Tetoron)/Neil Pryde | $ 3,360.00 |
| Transparent sail, monofilm(X-ply)/Neil Pryde | $ 3,550.00 |
Call For Availability