Climb steep hills, Go trail riding, Zip along bicycle paths,
use the EMX for slalom course and competition riding.

The EMX by Badsy is a vehicle designed to be durable and simple to operate. It is an electeric vehicle with instant acceleration and hours of fun on a single charge. User and environment friendly, the EMX is manufactured using the best materials for safety, durability and performance.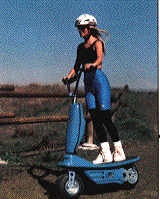 EMX Sport Model (Standing)
SUGGESTED RETAIL

SPORT MODEL

$2595.00

CUSTOM MODEL

$2695.00

SUPER SPORT

$2995.00

CRUISER (NEW!)

Call for pricing
| MORE INFO |